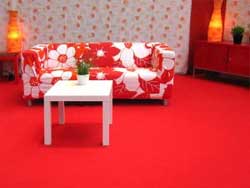 Carpet Cleaning
The equipment we use for carpet steam cleaning is all Prochem manufactured and maintained. Steempro 2000's portable machines provide the quietest and most powerful results available to the cleaning industry.
All types of carpets and rugs are steam cleaned in-situ, leaving them touch dry and ready for use (complete drying time being dependant on the wool content and cleaning requirements). Pre-sprays, enzymes, spotters, and solvents are used in conjunction with our state-of-the-art-machinery to treat stubborn stain problems.
Furniture in areas to be cleaned can be moved and replaced on foil pads to protect the newly cleaned carpet from harmful stains transfering and saving you the effort of physically emptying areas prior to cleaning.
Upholstery Cleaning
We clean cotton, dralon, silk, canvass, velvet, and viscose fabrics giving a fine finish to all upholstery.
Our specialist will decide whether a steam based or dry cleaning process is employed. They decide which system is most appropriate for each piece of upholstery on arrival before commencing work.
Leather upholstery cleaning and re-feeding is also a speciality.